My Account
Your home page is your window into the Price Doctor system. From this page you can review details of the very latest design that you saved and also view a list of the systems that you have
purchased and how much of your subscription time you have remaining. Register for free to start your first design now.
Saved Designs
From within this page you can view a list of all the designs that you have completed and saved. You can then re-visit any of these designs and make changes to determine a new price based on items that you have added or removed from the initial design.
The number of saved designs that you can have will depend upon the subscription level you signed up to. Once you have reached the saved design limit of your subscription level you will then be given the opportunity to upgrade to the next level. Register now, for free, to start your fist design.
Pricing Apps
The Price Doctor system initially comprises of the Extension Pricing App. This system will allow you to price your extension build to include all the features and materials that you would like to include. You do this by moving through the tabs, selecting the features that you require.
We have many more pricing apps currently in development and these will be released on an on-going basis giving you the opportunity to price every single home improvement job you could ever wish to carry out on your property.
Project Design Modules
Price Doctor currently has two extra pricing apps over and above the main extension pricing system. It is possible to design, price and check the material quantities for Driveway and Patio projects.
Using these project design modules you will be can quickly work out the cost and quality of materials that you will need for any shape or size of patio or driveway.
Price Plans
Price Doctor Pricing App has a simple pricing plan that will allow you to create a certain number of saved designs, starting with your first one for free. When you are comfortable and want
to get more information about your design, you can upgrade your app. Find out more about our pricing plans here.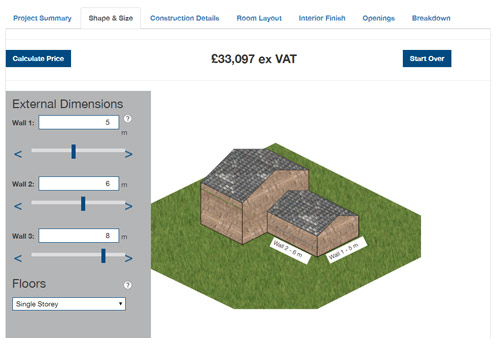 Pricing Breakdowns
Once you have worked your way through the tabular pricing app, you will have completed the design. At this point you can, name and save it and then you can look at the Pricing Breakdowns (paid versions only).
You will have the Materials List, with all the building materials required for your build, the Labour Breakdown, including all the labour hours required. In the Pro version you will be able to alter the standard cost of both materials and labour to produce accurate quotes or check quotes against.
Contact
If you experience any issues or need to ask any questions regarding Price Doctor please feel free to contact us by visiting our contact page here.
Price Doctor has been design, developed and managed by DIY Doctor Ltd. DIY Doctor is a website founded by tradesman which gives free home improvement advice and help. See www.diydoctor.org.uk.