The Smart Way to Quote
Capture all the information you need, right down to the last socket, for your quotes and get the exact price determined by the materials and labour hours required – not a 'per foot' estimate.
Follow an easy process that even your customers can use without lengthy discussions taking up your time, so you can focus on the paying work. Ensure that they don't forget items that will add to your build time and annoy them with a large 'extras' bill.
Manage your Overheads & Profit
Every job needs to contribute to your overheads and you have to make a profit. You can see exactly what these will be and amend them either by flat rate or percentage to suit the
project and its risks.
Apply your own pricing lists to projects, either from previous projects or from your saved price lists. You can create, update and save price lists based on changes to individual items and labour rates to ensure the job price in 100% accurate.
Save Time and Remember Everything
Work through a simple process to ensure that all the options are captured – even work through this with your clients so that they understand what is involved. This ensures that all aspects
that will have an impact on cost are considered.
While you are selecting the options Price Doctor calculates the effect on the material and labour rates, updating the price and qualities that you will require – so you don't have to!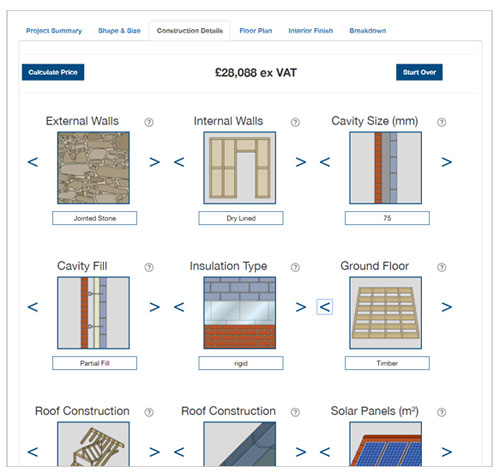 Win More Work
Show your customers what the space you will create for them will look like. If they can see it and understand how they could use it, they are more likely to see the benefit and go ahead.
For many homeowners it is a daunting prospect getting a contractor in, so anything you can do to help them overcome their apprehension and understand what you will do is going to make them easier customers.
Find the Serious Customers
Avoid unnecessary trips to customers that aren't serious by allowing them to get an understanding of the true costs and what is involved. They can easily see if their aspirations and
budget do not match up, without you having to take the time to prepare a quote and all that it involves.
Use Price Doctor to 'educate' customers so that they have a better idea of what they want, the likely costs and the options so you can focus on the building work.
Manage and Organise Quotes and Projects
As time goes by you will make more and more designs for your customers. You can manage, filter and sort these designs so you can find them more easily and track their progress.
Use previous designs for similar projects so you can save even more time by only updating the differences. And then you can apply a new up-to-date price list to get you an accurate price in minutes!
Price More Projects
Price Doctor is more than just an extension pricing application. There are more modules that are for pricing Patios and Driveway, and many more on the way. In the same way as you can price an extension easily, you can get an accurate cost for these projects, including the list of materials and labour rates.
Save even more time by pricing more jobs using Price Doctor.
Order Materials the Smart Way
Print out the list of materials which you can give directly to your builders' merchant. Ensure that you have the correct amounts and use the list to shop around to get the best price.
Price Doctor helps you to make the process of ordering materials easier and also it will help you to get better pricing; get better prices in less time!
Happy Customers
Price Doctor can help customers understand the process of their build better so you can focus your time on the work in hand rather than managing them. It will ensure that they are better prepared so key decisions will not hold you up squeezing your time and ultimately costing you money.
Minimise the risk of controversial extras which can delay you further and create bad feeling and reduce the likelihood of gaining referral work.
Subscribe to Price Doctor Pro to start saving now!
Without detailed drawings it can be impossible to provide an accurate quotation for work – now it is possible. Even with drawing it can be very expensive, not only for your time.
Estimator's charges mount up. Price Doctor is a single fee for a year with virtually unlimited designs for a around the cost an estimator would charge for a single design.